A Country Christmas at Gaylord Opryland in Nashville, TN is the place to go for a fun weekend or holiday trip. You couldn't ask for a more spectacular place to experience so many things! Whether going as a family to focus on all of the "Shrektastic" events based on DreamWorks films or just wanting to enjoy a romantic weekend with your significant other, there is something for everyone. A Country Christmas has been hailed as one of the "Ten Great Places to Catch up with Santa" by USA Today; "The Most Christmassy Hotel in the Nation" by the Travel Channel's Extreme Christmas; one of the top 10 places to spend Christmas in the world by Travel + Leisure; and a "Nashville treasure" by Southern Living.
Our trip started off with a Valet check-in at the Cascades lobby. It was so easy to have them to help us unload our vehicle and show us straight to our room. Upon entering the Cascades section of this vast property I was just in awe. From the gorgeous blown glass floral arrangements to the dancing water fountains, we knew we were in for a weekend of unforgettable memories.
After checking into our spacious room with 2 beds, we checked out the view from the balcony, into the Atrium. We then headed to a VIP reception in the Magnolias lobby. We got a little turned around trying to find it and well, it wouldn't be the last time we got lost. But, we finally found the sweeping grand staircase in the Magnolia section and we were escorted to a wonderfully yummy dinner including succulent crab cakes, chicken skewers, fruit, and even waffles with ice cream. This, along with every dining experience we had, always included child-friendly options like mac n cheese and chicken fingers.
On our first night we were invited to attend their official lighting ceremony. We had front row seats and watched as wonderful performances took place by both the Fisk Jubilee singers and up and coming Country Music star, Julie Roberts. After being served hot chocolate and seeing all of the Shrek characters com onto the stage, a flip was switched and 2 million holiday lights adorned everything in sight. An amazing fireworks show ended the celebration kickoff to the 29th annual A Country Christmas at Gaylord Opryland.
We spent a little time walking around the grounds and gazing at the breathtaking nativity scene that adorns the lawn. We then boarded a bus to go across the street to ICE!™ featuring DreamWorks' Shrek the Halls. Artisan from Harbin, China arrived months ago and transformed two million pounds of ice into larger than life colorful sculptures and incredible 20 ft. tall slides. ICE!™! takes place in the 40,000 sq. ft. events center. The story which takes place inside shows how Shrek tries to plan the perfect Christmas for his family and learns the true meaning of the holiday even if plans are disrupted by chaos and commotion. All his fun pals can be seen in the exhibit including Pinocchio, the 3 Little Pigs, the Big Bad Wolf, the Pink Dragon, Gingy, Fiona, and Puss in Boots. The best part is that they provide you with huge warm parkas to wear inside (although you should still bring a hat and gloves as it is only 9 degrees inside) and they have hot chocolate stations when you come out where you can purchase a steaming hot mug with marshmallow!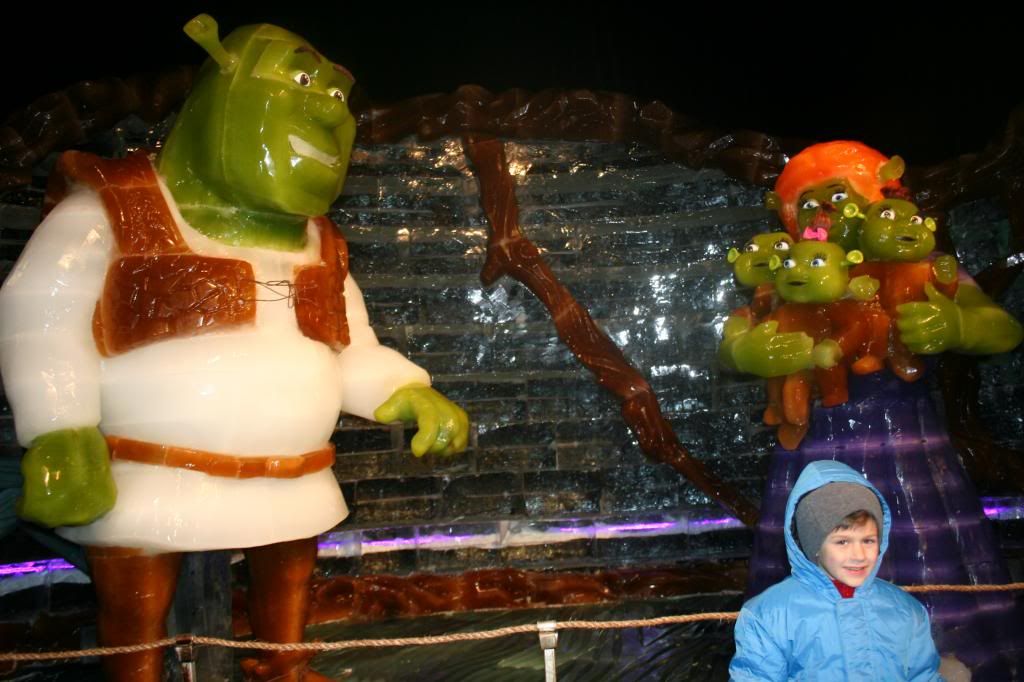 Our fun filled day ended at the Grand Ole Opry House with an unforgettable 2012 edition of The Radio City Christmas Spectacular®, starring the Rockettes. This year's show will featured a finale called "Christmas Dreams" and there was a new 3D movie scene where Santa Claus and his reindeer take the audience on a magical journey experiencing the sights and sounds of New York City. My 2 and 6 year old watched every minute of the show in amazement and loved the fact that they could take refreshments into the theater. They had popcorn and juice as they watched the girls kick more than 3,000 total kicks in the show and watched the cute teddy bears do the Nutcracker dance! The stage came alive with the incredible precision dancing of the Rockettes in beloved numbers like the legendary "Parade of the Wooden Soldiers" and the stunning reenactment of the first Christmas in the "Living Nativity" complete with real live animals on stage.
As we got back to the room that night and got the boys into their Christmas pjs, everyone was truly in the holiday spirit.
Our second morning began with a special wake-up call by DreamWorks' characters which my 6 year old was amazed by! He found it hilarious that Shrek called to give him an "ogre good morning." We ordered breakfast from in-room dining and enjoyed the view and the twinkling lights hanging from the ceiling from our Atrium balcony.
We then ventured out to the Ryman Exhibit Halls to check out the Treasures for the Holidays craft and gift show. We found some unique gift ideas and got some early shopping done. While there we also went right into the Holly Jolly Town Square, a step back in time to a nostalgic 1950s town square. The town square is complete with all the shops from Main Street, a holiday kids' train, story time with Mrs. Claus at the library and live entertainment. Most things were included, but you did pay a nominal fee for the train rides. However, the children got to go around 7 times! Also found in the town square is the Hall of Trees display benefiting local charities. Gorgeous trees themed to go with the companies who sponsored them!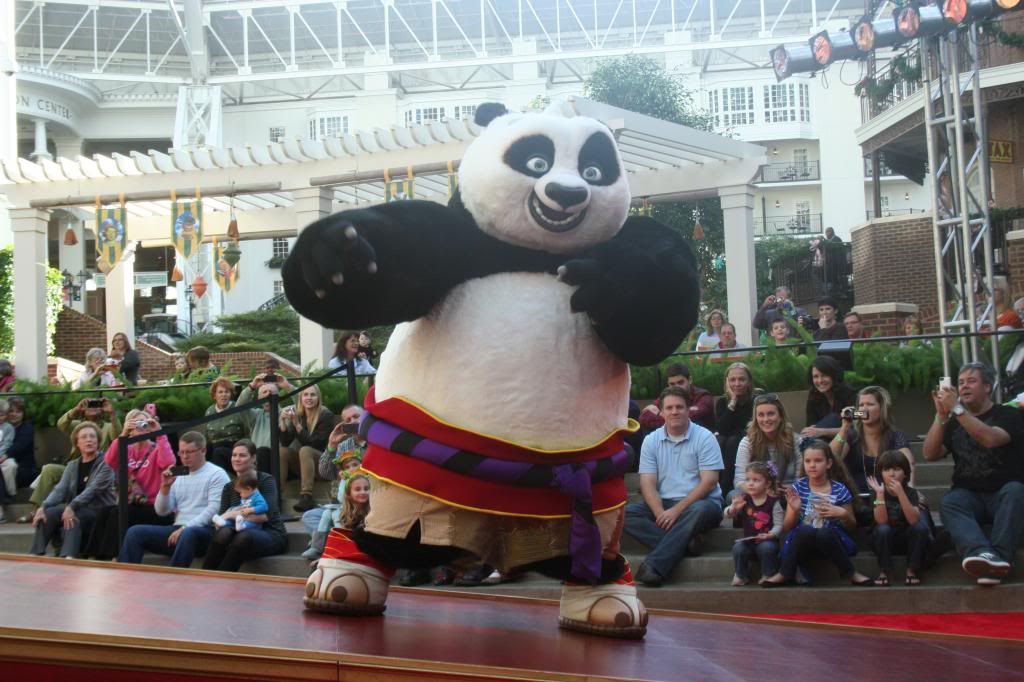 We took a break to attend a special luncheon with signature chefs who represented some of the many restaurants there on property. We experienced sushi from Wasabi's, fried chicken from Jack Daniels' and so much more! I had the pleasure of meeting and speaking with Gaylord Opryland's Senior Vice President and General Manager Pete Weien. As he explained, "there's no better place to celebrate the season and, of course, it wouldn't be Music City, USA, without amazing live shows and entertainment." From there, we went to do exactly, that, see a live show! The Holiday Shrektacular street party! It was in the center of the Delta part of the hotel! The set and costumes were fabulous and everything was so professionally done. The casts of several DreamWorks Animation SKG, Inc. films such as Shrek, Kung Fu Panda and Madagascar were in the show creating an interactive experience for everyone to sing and dance along to. They even made it snow, inside! It drifted down from the ceiling and was so magical! Funny story here, my 2 year old, in typical 2 year old fashion decide to throw a mini tantrum for a moment and kicked his shoe off accidentally and it went flying into the river inside. We thought we had lost it for good!
After some rest time in our room, which was always nice and quiet, we headed down to the Tennessee Ballroom for Lorrie Morgan's Enchanted Christmas Dinner & Show. Morgan and her exceptional family of musicians took us on an enchanting journey through Christmases past and present, featuring songs from Lorrie's popular Merry Christmas from London album along with the many hits of her platinum-selling, 16-album career. We dined on a three course meal that started with an amazing Butternut Squash and ended with a rich Chocolate Strawberry Cheesecake.
Our third and final day started with a ShrekFeast Interactive Character Meal in the Delta Atrium restaurant. The scenery is made to look like an Ogre Swamp and everything fit perfectly with the theme! We dined at their buffet on everything from Ogre shaped waffles to green ogre juice and dipped marshmallows in the green chocolate fondue fountain! We then went on to enjoy a Boat Ride in the river they have inside, here is where that funny story picks back up! While in line I mentioned to the lady that my son had kicked his shoe off into the river the day before and they might find a random baby shoe floating along one day! And, they already had! They had it right there waiting for me, lol! Their gardeners clean out the river everyday and had found it! So, with everyone's shoes back on, we did "Character Passport" meet & greets, and had fun with the Rise of the Guardians Scavenger Hunt.
Before leaving Nashville to head home, we went to Gingy's Gingerbread making and Meet n Greet back over at the Exhibit Halls. The children were thrilled to decorate their own gingerbread house and get to meet a life-size Gingy, along with purchasing cute Gingy puppets in the gift shop!
Several resort packages are available to help guests experience A Country Christmas at its best:
A Country Christmas package is available Nov. 16 – Dec. 25, 2012 and starts at $419* per night/double occupancy for two nights and $359* per night/double occupancy for three nights. Includes accommodations, front-of-line access ticket to ICE!, a ticket to the Radio City Christmas Spectacular starring the Rockettes, and a ticket to Lorrie Morgan's Enchanted Christmas Dinner & Show. The three-night package also includes an upgraded ICE! VIP Experience ticket, a Treasures of the Holidays craft and gift show ticket, a Hall of Trees ticket, admission to the "Kids Only" shopping area, and a VIP Coupon Book valued at more than $250.
The Christmassy DreamWorks Experience package is available Nov. 16, 2012 – Jan. 1, 2013 and starts at $219* per night/double occupancy for two nights and $199* per night/double occupancy for three nights. Includes accommodations, tickets and front-of-line access to ICE!, first-come, first-served VIP seating for the Holiday Shrektacular, ShrekFeast Interactive Character Meal, "Character Passport" meet & greets, Rise of the Guardians Scavenger Hunt, DreamWorks welcome amenity, a souvenir family photo, and special wake-up calls by DreamWorks' characters. The three-night package also includes an upgraded ICE! VIP Experience ticket, a cup of hot chocolate and a Gingy Meet and Greet.
Christmas Memories at Gaylord Opryland package is available Nov. 16, 2012 – Jan. 1, 2013 and starts at $239* per night/double occupancy. Includes accommodations, ticket to ICE! and a souvenir ICE! photo (one per room).
For reservations or tickets, visit www.ChristmasAtGaylordOpryland.com or call 1-888-677-9872.

ABOUT GAYLORD OPRYLAND RESORT
Gaylord Opryland Resort & Convention Center, located at 2800 Opryland Drive in Nashville, Tenn., is the largest non-gaming hotel facility in the continental United States and the flagship property of Gaylord Hotels, part of the Marriott portfolio of brands. The newly-renovated resort features 2,881 rooms and more than 600,000 square feet of meeting, convention and exhibit space. The property is best known for its signature glass roofs and nine acres of lavish indoor gardens and waterfalls. For more information, visit www.gaylordopryland.com.
*Per night, based on double occupancy, plus tax, daily resort fee and parking. Extra adult and extra child rates apply. Extra nights and atrium upgrades may be available at prevailing rates. Not valid for groups or in conjunction with other offers. Not retroactive. Subject to blackout dates. Other restrictions may apply.
Shrek, Madagascar, Kung Fu Panda and all related characters and properties© 2012 DreamWorks Animation L.L.C. Merry Madagascar © 2012 DreamWorks Animation L.L.C.